Sound & Vision: What Does Dying Well Mean to You?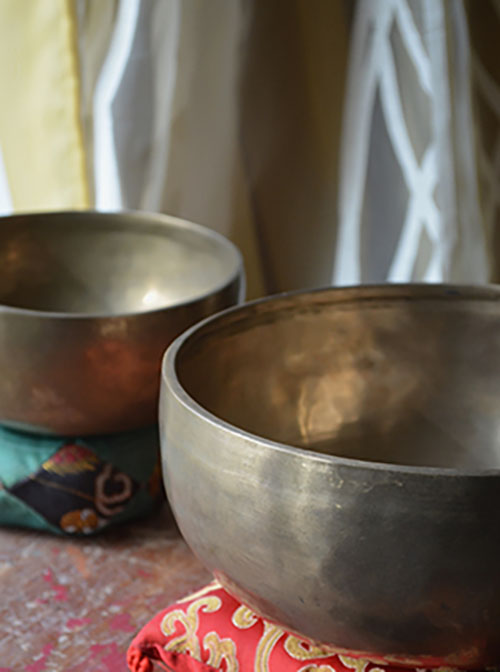 What would make your last weeks, days or hours most peaceful? What do you want around you at the end of your life?
What music, chants, prayers, or teachings—if any—would you most like to hear?  Are there photographs  or other works of art you would like in your line of sight? Is there one special person, or a few people, who you want to be near you for support?
Join us to work on your aesthetic, spiritual, emotional advance directives, rather than your medical ones (i.e., health care proxy, living will).
They say that hearing is the last sense to go before we die. We will use sound—singing bowls, guided meditation, humming—as a tool to help explore what dying well means to you.
The outline for the day will alternate periods of experiencing and creating sound, guided meditation and contemplation, with capturing and sharing your thoughts on your relationship to your mortality and what a good death might mean to you.
How you die is an extension of how you live. How can we allow our mortality to consciously affect the way we live—the choices we make?
It will be a time to experience, to contemplate, and to share your vision.
---
When: Saturday, March 28, 10AM-3PM
Where: Third Street Meetinghouse, Ithaca, NY
Cost: $50, lunch included
Advance registration required
Email: Angela Mennitto at angela@theartofdyingwell.com
If you are interested in attending, but genuinely cannot afford it, On Dying Well
(our non-profit arm) has a few grants available.
---
Workshop Prep
Below are a few short articles we are asking attendees to read before the workshop.  They may help set context for you if you're trying to decide if this is for you.
In case the first two links above ask you to subscribe to read the article, you can click below to view a PDF of the article.
We will also ask that you bring something you might want read at your death bed to share with the group.
---
About Us
Angela Mennitto is a death midwife who works to organize community education events to promote death literacy—the practical know-how needed to plan well for the end of life—and to help normalize conversations about death and dying.
Bernadette Fiocca, a licensed massage therapist for over 30 years, is an irrepressible explorer of what constitutes health. This led her to study many kinds of bodywork as well as the energetic components of the body (meridian and chakra systems).  She has a deep interest in exploring how sound frequencies promote peace, awareness, health, and harmony.